PLEASE NOTE
- If you have landed in this page straightaway, without knowing anything much about azhagi.com and it's
free
softwares, then please note that azhagi.com offers two
unique
and
free
indic softwares -
Azhagi+
and
Azhagi
. Both of them possess
peerless features
and you can
download
them from the
home page
of azhagi.com.
100s of FREE Tamil Fonts (Unicode, Tscii, TAB, TAM, etc. encodings):
Other softwares incl. Tamil Fonts Converters
As you keep downloading the 100s of free Tamil fonts (some of them very stylish too) listed above, kindly see
indic.html
also - this page hosts a comprehensive list covering very many softwares and online tools available for computing in Tamil and various other Indian languages (including
Tamil fonts converters
, Tamil-English dictionary, English-Tamil dictionary, Text-to-speech engines, etc. etc.). Kindly also read
spread.html
to see what best you can do to spread the news of Azhagi and all softwares of its kind, for the benefit of the global society.
More samples of free fonts

---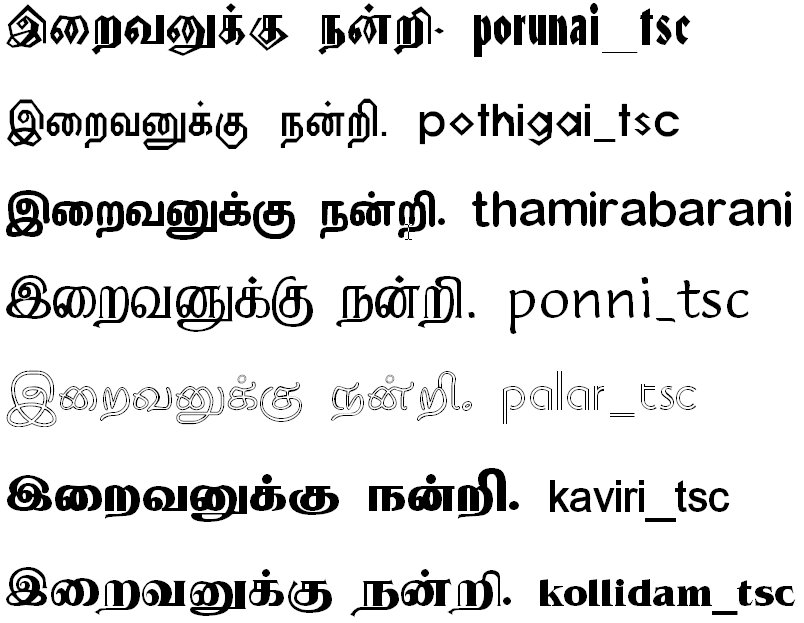 Note:
Sample texts for a few fonts are only shown above. Otherwise, you can download more than 300 differently styled fonts by following the appropriate download links in this page. And, using font converters available at
indic.html
, you can convert texts generated in Tscii/Unicode/etc. to Tab/Tam/etc. (and vice-versa) and thus utilise ALL the fonts downloaded by you from this page.
100s of Free Unicode Fonts for Indian Languages
There are 100s of free Unicode fonts (of various styles) available on the net for various Indian languages like Tamil, Hindi, Sanskrit, Telugu, Kannada, Malayalam, Marathi, Konkani, Gujarati, Bengali, Punjabi, Oriya, Assamese, Kashmiri, etc. Kindly visit
http://azhagi.com/unicodeff.html
to find links to download the same.